Forensic Psychological Services
Forensic: Relating to, used in, or appropriate for courts of law.
Forensic Psychological Services involves assessing and treating individuals whose behaviors or circumstances leads them into involvement with the legal system. This includes working with attorneys and court, jails and treatment facilities, and adult and juvenile probation.
Psychological Evaluations
Through Forensic Psychological Evaluations, Dr. Pizitz assists attorneys and their clients by conducting the following:
Alcohol and Drug Evaluations
Dangerousness and Risk Evaluations 
Military Diversion Evaluations
Mental Health Diversion Evaluations
Competency to Stand Trial Evaluations
Psychosexual Evaluations
Intelligence/Cognitive Evaluations
Pre-Sentence Recommendations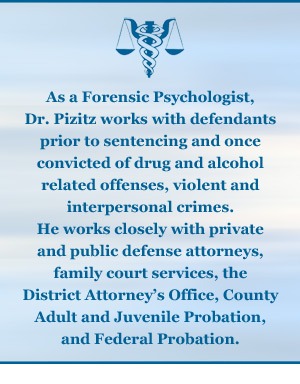 Drug and Alcohol Treatment
Dr. Pizitz evaluates and treats clients prior to sentencing and once convicted of drug-related charges. Examples include Driving Under the Influence, Possession, Sales, and Under the Influence of Drugs and/or Alcohol. Through an Intensive Outpatient Treatment Program, clients are treated on a 1-2x weekly basis, attend outside recovery meetings, and participate in random drug testing. Resources to detoxification programs, inpatient treatment, and psychiatry for medications are part of the intervention process, if needed.
Individual and Group Treatment
Detoxification, Inpatient, Psychiatry Resources
In Office Interventions
Drug Testing
Urinalysis Laboratory and Take-Home Tests
Take-Home Kits can be purchased and mailed to your home
EtG Testing (Ethyl Glucuronide) Measures alcohol consumption up to 80 hours after use.
Anger Management Treatment
The Anger Management Treatment Program is designed to assist clients involved in the criminal justice system for aggressive behaviors to manage and contain hostile impulses and behaviors. This treatment program is headed up by Shay Groenewold, PhD.
Domestic Violence Treatment Program
The Domestic Violence Treatment Program is a 52-Week program designed to assist in violence reduction and resolution to conflicts through non-violent means. This treatment program is headed up by Shay Groenewold, PhD.
Sexual Dysfunction Treatment
Treating a variety of sexual dysfunctions including pornography addiction, sexual addiction, and intimacy/relationship issues. This treatment program is headed up by Dr. Todd Pizitz and Dr. Shay Groenewold.